What we know today as Paia, the busy little surf town on Maui's north shore,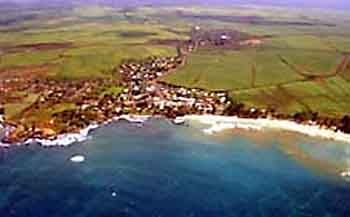 was at first called Lower Paia. The original Paia, built and owned as a plantation town by HC&S Sugar, was located a mile up Baldwin Avenue.
In its heyday, Paia was the largest city on Maui with a hopsital, cinema and a population exceeding 10,000. (A photo mural of Paia plantation town can be seen at the Alexander & Baldwin Sugar Museum in Puunene.)
Around 1896, independant merchants built Lower Paia along the coast to compete with the company stores further up from the beach. When the plantation era came to an end in the 1950s, most of Upper Paia was torn down.
Only the sugar mill itself, a few sidewalks and some administrative buildings remain of the company town; the houses and stores are now gone. But, Lower Paia has grown and flourished since then, and is a today bustling mix of tourists, surfers, and local-oriented stores and restaurants.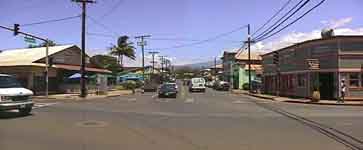 | | |
| --- | --- |
| Paia Bay | Temple Bay |
| | | |
| --- | --- | --- |
| Ho'okipa Beach | Mantokuji Temple | A Great Rainbow |